Hummingbird Retreat is located on the rural outskirts of Pisaq. Hummingbird Retreat has been designed to offer a comfortable and tranquil environment to support and nurture one's personal growth. The accommodations are constructed in an environmentally harmonious and traditional adobe style, with a variety of comfort-enhancing facilities. The surrounding gardens are filled with an abundance of flowers, healthy organic vegetables, fruit, herbs and medicinal plants, and several species of iridescent hummingbirds.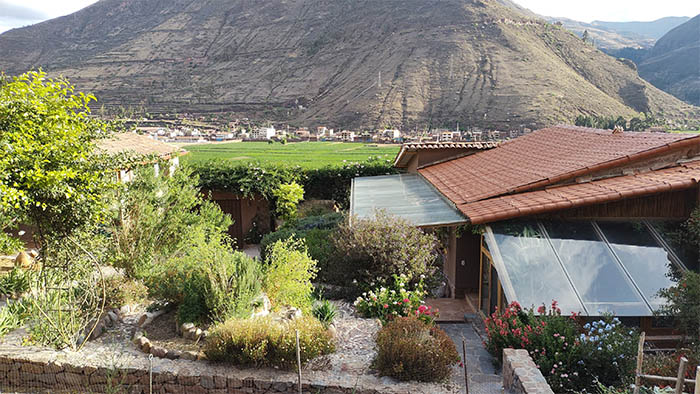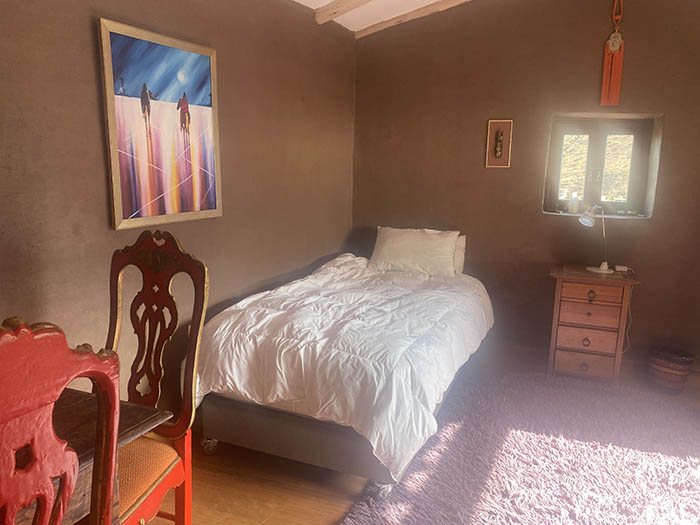 Accommodation
Retreat Accommodation on the property comprises of the main house with two guest rooms and a self contained cabin. The accommodation is set amongst organically grown fruits and vegetables, herbs and healing plants. This beautiful location supports the profound connection with Pachamama, mother earth, available in these majestic mountains. A perfect location to stop, relax and rejuvenate.
The Main House
There are two guest bedrooms with share a full size bathroom. Comfortable beds and pure cotton sheets make your stay super comfortable.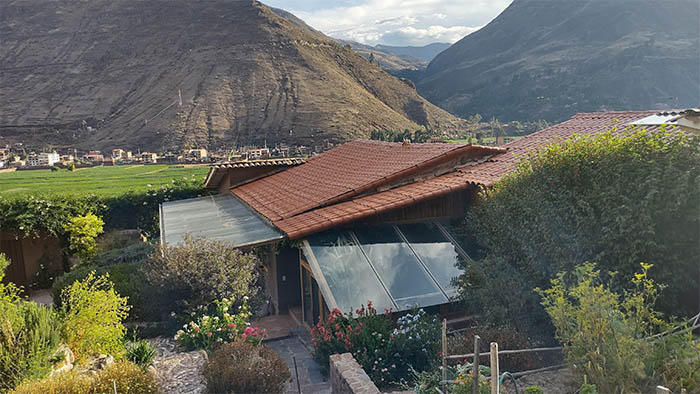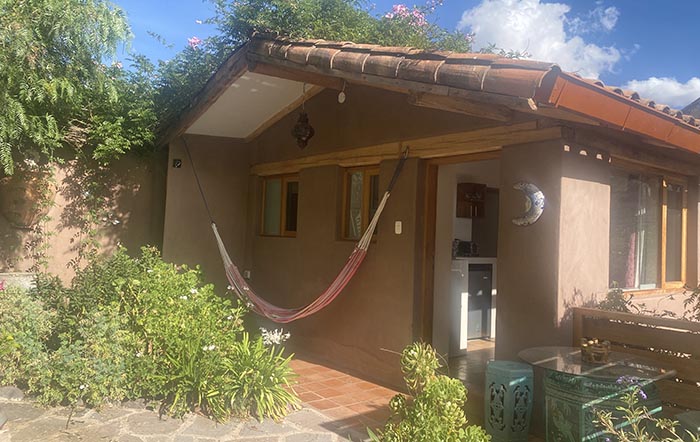 The Gatehouse Cottage
This cute cottage is used for retreats and dietas as well as longer term stays. It has a kitchenette, bathroom and sunny terrace.
At Hummingbird Retreat, healthy, wholesome, fresh and organic produce are an integral part of our philosophy.
In-depth personal work has the potential to have varying effects on participants' eating habits, therefore we offer two options, catered and preparing food  for yourself, this system provides the most flexibility to suit your needs.
Preparing food for yourself:
A large variety of fresh produce and other food ingredients are provided for your convenience. The casita has it's own kitchenette allowing you to prepare and consume food at your leisure.  You can choose the food that feeds your body, nurtures your soul and enlivens your spirit.
Organic garden:
The property itself has an extensive organic garden that frequently flourishes with a variety of seasonal vegetables, fruits, herbs and flowers, ensuring there is always something ready to be harvested.  Our fresh and dried herbal teas, jams and pickles are also on hand.
Fresh local produce:
Our friendly neighbours supply fresh milk, honey and yogurt, making our homemade treats amongst the most desirable in the local area. Local and well-tendered cows and bees contribute to the wholesomeness of these ingredients.
Amazing Amazon produce:
We also provide an assortment of fresh fruit from the amazon jungle. Produce from the jungle is transported without cold storage and ready for consumption within just a few days from picking. Amongst the variety of jungle fruits include an array of mangos, pineapples, cherimoya, papaya, fresh ginger, turmeric and more exotic jungle foods. These vibrant ingredients make wonderful smoothies combined with super foods of the Andes and the jungle.
Dietary requirements:
We cater to a range of dietary options including meat-eaters, vegetarians, vegans and gluten free.
For any other dietary requirements please contact us.
Hummingbird Retreat operates with a strong sustainability ethos in all areas from water to food and building materials to recycling.
The Retreat buildings and facilities have been built utilising locally sourced sustainable materials including adobe (mud bricks), stone and timber. The retreat has been designed to sit in harmony with the natural environment.  The surrounding gardens are all organically grown and maintained.
Hummingbird Retreat takes various measures to minimise our impact upon the natural environment as well as caring for and respecting local culture and community.
We request all visitors to respect this while they are here.
Our Sustainability Highlights:
People:  Respect and understanding of the local culture, people and heritage is paramount to all our operations.
Water: During the dry season we are challenged with regular water shortages and we kindly request guests minimise their water consumption where possible. We have installed water tanks as well as a grey water/rain water system.
To reduce the use of water and protect the soil all garden beds are extensively mulched.
Only human waste goes in the toilet system. Toilet paper and sanitary napkins are put in the bin. Natural soaps are used.
Energy: Lighting is kept to a minimum and garden lighting is all solar powered.
Waste: Fresh produce and purchasing habits minimize the amount of waste we have on the property. We take our own bags to the market, refillable containers to collect honey and milk. Other measures we take to keep waste to a minimum include:
Compost: Each cabin has a compost bucket.  All green waste from the property is composted on site to revitalise our gardens.
Re-cycling: There is a local re-cycling station in the village of Pisaq, however we request visitors try avoid these in the first place.
We give all (unavoidable) plastic bags to our local fruit lady who reuses them in the market
Food: All food home grown is organic other food is locally sourced.